---

---
At about the age of 11, I was captivated by "The Lord of the Rings," and especially by Tolkien's "invented" languages. I went on to study Latin, French, and Latin at secondary school, and a little Welsh. During this time, I corresponded briefly with Richard Adams regarding the "Lapine" language, fragments of which were presented in his novel "Watership Down." At Cambridge University, which was an immensely important and positive part of my adademic and social education, I studied science and maths, but was also lucky enough to be able to pursue my more open-ended, artistic, creative interests, with the support of three Trinity College scholarships.

Since then, I have spent 12 stimulating years lecturing in applied maths at Northumbria University (the languages were used in parts of my teaching). I have also attended several seminar courses in Advanced Latin at Swansea University, and in Summer 2014 gained a Distinction in the exam for an intensive course in Introductory Ancient Greek, and Egyptology.

I am currently working hard at becoming fluent in Welsh as an adult learner by attending classes in Tŷ Tawe Welsh Centre (Menter Iaith Abertawe), organized by Academi Hywel Teifi at Swansea University. I absolutely love the Welsh language, which I find beautiful, magical, and modern, all at the same time. I have recently received a Distinction in "Welsh Second-Language: Higher Level."

---
---

---
Since my first attempts at creating a language (a process Tolkien called "subcreation"), I have woven the basic fabric of Lapine into my own experiments, although this forms only one part of a much larger sequence of languages.
My aim was to give free reign to my creativity, to enjoy the playfulness, and to investigate and demonstrate in as much detail as possible how a family of complex, interrelated, invented tongues develops, giving rise to syntax, a lexicon, scripts, and so on. My creative language play (a process I call "aleolinguistics") is still going on.
The prefix "aleo–" is derived from the Latin verb "alēre," which signifies continuous interactive growth, coupled with mutation, in a system; it seems to fit well a process of long-term psycho-linguistic maturation. There are also echoes of the Latin noun "āleæ" which means "dice" or "chance-games," although we remember here that in the proper technical sense, "chaotic" events are not at all random, but rather are fully deterministic, with outcomes which are quite unpredictable even knowing exactly the (often simple) "rules" that apply at every stage.
Various stages of the language (or, indeed, the separate languages), have names such as "Sivrolutínu Dalathanír" (proto-Language); "U Taalthil 'Shiilvahweeth" (neo-orimo-Language: "Lapine Proper"), and "Ai Houn ifa ai Thari ina pe i ai Silifuithe" (neo-telo-Language). These all mean "The Language of the Burrowers."

I am very keen to hear from anyone with an interest in this work, particularly if you wish to commision some language-development, or to collaborate. Linguists, composers, artists, poets, tattooists, and musicians are especially welcome. If you have any requests or queries, you can get in touch here, or by using the link to the contact-form provided at the top of this page.
---
---

---
This work has resulted in the mapping out of numerous historical stages of my language, each involving approximately 2000 items of vocabulary. There are also scripts, and comparative sample texts in various of the languages. Some examples are given below. All of the examples mean:
"This is the tale, much abridged in form,
Of deeds long-past"
or, in Welsh:
"Dyma'r chwedl, y talfyrrir ei ffurf yn llawer,
Sy'n traethu gweithredoedd a fu ers talm."
---
One of the earliest stages (based on a Latin model) looks like:
Antel-u ah-es, suler-í tantis-ohé hisut-uhí,
Enter-ién orí lanest-asaví ros-ié lam-oké erelt-ulé tela
---
This then became "Lapine":

U hoylps ás, u thapsna arté's wiloom-afoo a hýl,
Af-tan sy m'nuhloil lamné u ilps's hlammé rons risthi fu hýl
---
Which developed into a language which I wanted to be similar to Samoan:

Ai holupa as, a thaperina are u ulou thi ule his,
A holusu u ape ule ithes sethenath athe lane lana fie ere setha
---
A document containing a comparative survey of all of the stages of the language is available below. This document is intended to present a bare-bones overview of the outcomes of an "aleoliguistic" process.
It does this by giving translations of the "Introduction to the Cycle of Elder Days" into various "aleostates" of the language, designated: archo-Languages ("Dead Languages"): proto-archo, meso-archo, muto-archo, neo-archo; thallo-Languages ("Thriving Languages"): proto; ortho-meso, meta-meso; ortho-muto, meta-muto; orimo, neo-orimo ("Lapine Proper"); proto-telo, and neo-telo.
---
---

---
I have made art involving translations of phrases and longer texts. For example, I have created a vocal text for "Tango alemán" (1978) by Mauricio Kagel, performed by Dr Paul Attinello at Newcastle University King's Hall in 2008; and made a text for the Croxhapox Art Collective, Gent, Belgium (2011). If you are interested in working with me, please send me a message.

---
Some people have even asked me to design tattoos for them, involving texts such as: "She is a phantom of delight," "In my God I trust my life, my love, my destiny," "Language: Fire of Truth," "A Shaman of Becoming I'll Be," "I am a Lingwiz'd of Is," and "Believe in nothing." These requests have come as a great honour, and I have gained immense pleasure from fulfilling them! Some examples are given below. Please get in contact if you would like to discuss the development of designs.

---
A document illustrating the utilization of these languages for creative purposes is given below.
---
---

---
I have used various of my own "aleolinguistic" languages and scripts very successfully in teaching a final-year BSc (Hons) Mathematics Degree module in "Advanced Mathematical Modelling." The specifications are given in the document below.
---
On the basis of these experiences, I presented a poster entitled "Do All Mathematicians Speak the Same Language? No, at Northumbria Some of Us Speak U Siilvahwyth" at the Northumbria Conference on Assessment for Learners (2010). This is reproduced below.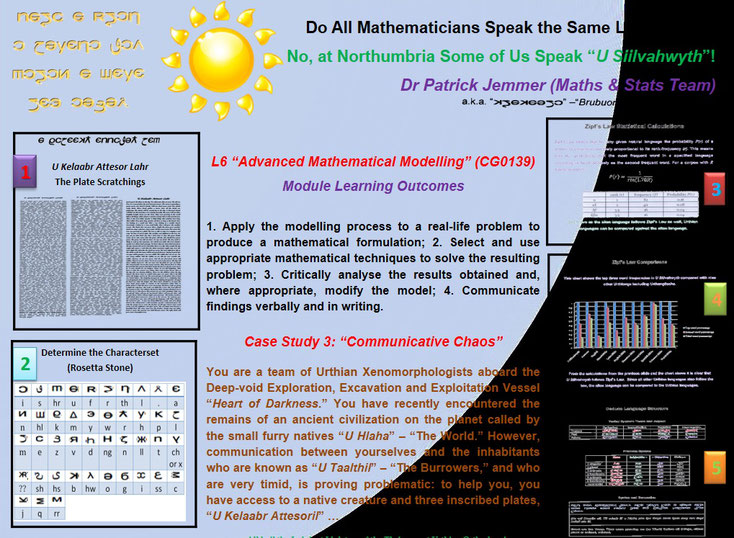 ---
---
---
The first article was
Jemmer, P (1986) Secert Vices: Lapine. Quettar 25: 3 – 4.
---
The second article was:
Jemmer, P (1987) "U Sthinga-i-Kelaabr" (Tolkien's "Ring Poem" in Lapine).
Aglared (English Edition). 10.
---
The third article was
Jemmer, P (1988) Subcreation: A Linguistic Faculty of Greatest Excellence. Quettar 31: 8 – 10.
---
The fourth article (developing from "Lapine" to "Gallifreyan") was:
Jemmer, P (1998) "Galifresa He Luse" ("Old High Gallifreyan"). Aglared (English Edition), 16.
---
---

---
The entire study (up to 2014) has been published as:
Jemmer, P W (2014) Studia Aleolinguistica: An in-depth study of linguistic 'subrcreation'. Enflame Newcastle Number 4. NewPhilSoc: Swansea UK. ISSN 2047-0444; ISBN 978-1-907926-16-7.

Studia Aleolinguistica: PDF-file [Sent by e-mail: 2.3 MB]
Chapter 1. ALEOLINGUISTICS: The Language Creators; The Inception of Lapine; Lapine Develops; The Philosophy of Subcreation; "Chaotorganic" Growth; The "Secret Vice"; Observing Creativity; Aleolinguistics; (Re)(de)(con)struction; A Living Language Evolves; Archo-Language development; Initial conception of aleostates; Refined conception of aleostates; A "map" of linguistic features; References; Chapter 2. THE LANGUAGE(S): Proto-Language; Meso-Language; Muto-Language; Orimo-Language ("Lapine" Proper); Phonemics and Orthography; The Nature of the Language; Lapine Syntax; "Mutations" in Lapine; Counting in Lapine; Reverential Titles in Lapine; Names in Lapine; Lapine Calendar; Lapine Language Development and Examples; Neo-Orimo-Language; Proto-Telo-Language; Language Structure; Language Examples; Neo-Telo-Language; Language Structure; Language Examples; "Root words" in the proto-Language; "Roots" in the telo-Language; "Determinatives" in the telo-Language; References; Chapter 3. THE LEXICA: Clan Address; Personal Names; A - Z Vocabularies; Chapter 4. THE JOURNEY CONTINUES: Sharing; Learning through Lapine; Onwards And?; References.
Studio Aleolinguistica: PDF-file [Sent by e-mail: 2.3 MB]
---
---
To add to the philological debate regarding Klaatu's command to Gort, namely "Klaatu barada nikto" -- why not do a very magical operation, and invert the written form of the original? This gives: "Otkin adarab utaalk." A load of old gobbledygook, you say. And so it appears when written this way. However, if you "re-segment" the phrase -- how this might sound, I do not know -- then you get -- "Ot kinad a rab u taalk" -- surely, to the eye, at least, suggestive of "What kind of (c)rap you talk? A joke, maybe, on the part of Edmund H. North, who wrote the film and invented the language?